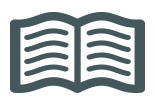 Training
IAgSA helps you to succeed, throughout your career with Professional Training
IAgSA provides training to help farm administrators and bookkeepers to become more professional. Our training will prove valuable, whether you are beginning your career, changing roles, or looking to refresh or enhance your expertise. Land agencies and accountancy firms can also use our training to provide their staff with essential knowledge of the agricultural sector. For more details, follow the links above. But contact us if you need further assistance.
The IAgSA Farm Accounting and Rural Business Administration Training Programme will give you the perfect head-start within our industry. Whilst our Continuing Professional Development (CPD) programme can take your career to the next level – and also benefit your employer or clients. CPD is essential for our Associates and Full Members (see membership options ).
IAgSA Farm Accounting and Rural Business Administration Training Programme
Are you interested in becoming a farm administrator or bookkeeper working in the UK rural economy? Do you want an industry-recognised accreditation to further your career and raise your level of expertise? Our Farm Accounting and Rural Business Administration Training Programme is suitable for those working within farming already, returning to the sector or looking for a new career. Certification is recognised and respected across the agriculture sector. We developed our training programme in 2011 and it's been extremely well received by participants and the wider industry. The work carried out by a farm administrator or bookkeeper, for a farm or rural business, requires a solid level of understanding of current issues, rules, regulations and terminology. Much of this is unique to the agricultural sector – and that's why training is so important. Our training units only take 1-2 days each, so it's possible to get accredited quickly or work at your own pace, fitting the programme conveniently around your current job.
Who can apply?
Our accredited courses are open to anyone wishing to either take up a career in Rural Business Administration or indeed to enhance the skills required for their own farming business. Alternatively, you may be a trained bookkeeper or accountant already but you want the extra knowledge needed for the farming sector.
How can I book training and what's the cost?
Training takes place throughout the year, typically on Fridays and Saturdays. Sessions are usually held either at the National Agricultural Exhibition Centre, Stoneleigh Park, Kenilworth, Warwickshire, CV8 2LG or The Pavilions of Harrogate, Railway Road, Great Yorkshire Showground, Harrogate, HG2 8NZ. Our training represents excellent value for money. See the latest Training Programme Dates for booking details and prices.
Need some advice?
Please contact our team if you have any questions about our training programme or if you need help in choosing or booking training units.
Farmplan are pleased to sponsor the IAgSA Accredited Training programme.

What will I learn?
This programme has previously been postponed due to implications of Covid 19. This has given us a chance to reassess the training as a whole. We have identified areas which require upgrading to ensure that the training delivered is fit for purpose and reflects the current requirements of the role of rural business administrators.
Once the programme is rescheduled there will be a requirement prior to attendance for the financial recording Unit that you have recognised bookkeeping qualifications eg: AAT, ICB, IAB and/or relevant experience.
Please regularly refer back to this page for updates as to recommencement of the programme.
Key subjects are covered by different units. You can complete all the units – or simply select the ones that interest you most.
Unit 1 – Farming Knowledge (1 day) £200.00 plus VAT
This course will enable the participant to gain an understanding of current farming practices and structures, the Basic Payment Scheme and associated Cross Compliance Inspections and Farm Assurance Schemes. It will raise an awareness of agricultural news and developments on the Agricultural Transition Plan as they occur.
This training programme is currently withdrawn

Unit 2A – Farm Record Keeping for Livestock Enterprises (1 day) £200.00 plus VAT
This course will enable the participant to gain knowledge of the physical and legislative record keeping requirements of running livestock enterprises.
This training programme is currently withdrawn

Unit 2B – Farm Record Keeping for Cropping Enterprises (1 day) £200.00 plus VAT
This course will enable the participant to gain knowledge of the physical and legislative record keeping requirements of running arable enterprises.
This training programme is currently withdrawn

Unit 3 – Financial Recording for the Farm Business (2 days) £350.00 plus VAT
This unit will enable learners to create, maintain and complete farm financial records as required by HMRC and the accountant in order to produce the year end accounts.
This training programme is currently withdrawn

Unit 4 – Farm Office Administration (1 day) £200.00 plus VAT
This course will enable participants to gain the understanding of the requirements of becoming a Farm Administrator (both employed and self-employed). Along with the implementation of effective systems and procedures in the farm office and to meet the requirements of legislation, including the maintenance of employment and compliance records.
This training programme is currently withdrawn
For full details, see our Guide to Training Units.
Further Advancement of Knowledge
Unit 5 – Managing the Farm Business Performance (1 day) £200.00 plus VAT
This training programme is currently withdrawn
Suitable for those who have undertaken the accredited training programme, have worked as a farm administrator for 12 months and are wishing to extend their knowledge. This course will enable participants to gain an understanding of management accounting including cropping year v. financial year and farm efficiency and performance measures including gross and net margins, cost of production, valuations, cashflows and budgets. It will provide an in-depth understanding of these subjects and enable farm administrators to increase the support offered to their clients.
Unit Outcomes:
Understand what the accountant needs at year-end and the principles of accruals/prepayments and depreciation
Create draft Profit & Loss and Balance Sheet statements
Understand the factors used to create a budget
Create a cashflow budget
Produce differing styles of budget
Report variances from the budget
Check available Training Programme dates for this unit
Distance Learning – Payroll Course Delivered by Sum-IT Software Systems – IAgSA members £230 plus VAT, non-members £295 plus VAT
If you'd like to really understand how to do the Payroll in today's office, get to grips with all the very latest PAYE legislation and Workplace Pensions too, then this training course is designed for you.
This course is applicable irrespective of whichever PAYE software you may be running – it is a Payroll course, not a software course.
Minding Your Own Business
A series of one-day Workshops delivered by IAgSA trainers to help members of farming families to future proof their businesses and provide the opportunity to update and improve skills and knowledge. Designed for members of training groups, agricultural societies and other discussion/networking groups – Price upon Application.
---
Workshop 1: Is your current bookkeeping system fit for purpose?
This training programme is currently withdrawn
This workshop will enable attendees to update their skills and knowledge base to ensure a better understanding of their farm bookkeeping systems. It will also give them the opportunity to review their current systems in preparation for the future regulatory requirements.
At the end of the session attendees will be able to:
Assess the correctness and suitability of their current farm bookkeeping systems
To review their existing systems in order to future proof their business with regards to management decisions
Recognise and use farm data to produce enterprise gross margins and whole farm analysis
---
Workshop 2: Managing the Farm Business Performance
This training programme is currently withdrawn
This workshop will enable attendees to recognise and use farm data to produce farm efficiency and performance measurements. It will also enable them in the preparation and production of cashflow and budget reports.
At the end of the session attendees will be able to:
Understand Year End Accounts
Recognise Cropping Year v. Financial Year
Produce Gross and Net margins and identify the Cost of Production
Produce Cashflow and Budget reports
Farm Software Training
IAgSA works in partnership with a number of farming software companies including Farmplan Computer Systems, Landmark Systems and Sum-It Computer Systems to help farm administrators and bookkeepers to improve their financial management, thanks to professional training in the latest software. Farmplan and Landmark offer "Taster Days" and Sum-It provide a distance learning course to any delegates who have attended our Unit 3 Training module.
Farmplan Computer Systems
Our training is ideal if you're planning to set up a bureau service or start employment as a farm administrator - and you want to find out about using Farmplan financial software. You don't need to be an IAgSA member to book a software training day. But a basic knowledge of bookkeeping may be required by some sessions. Participants should also bring a laptop with them. Please contact [email protected] for more information. https://www.farmplan.co.uk
Landmark Systems
Landmark Systems has supplied software to support British agriculture since 1987. As part of our long term commitment to support IAgSA members, we are delighted to offer them training and assistance in a number of ways. Any IAgSA members who purchase our software either independently or through a client are entitled to 2 hours' free web based training on their new product (including our legacy KEYPrime Accounts software). All IAgSA members are also entitled to a 10% discount on any of Landmark's chargeable training webinars or workshops held at various locations throughout the year – these are in addition to a number of free topic based webinars we also hold throughout the year. Webinar recordings and training tips can also be found on our Youtube channel.
Sum-It Computer Systems
Since 1983 Sum-It have been developing and supporting straightforward farm software to many thousands of farms across the UK. The Total Accounts Module is their main program in the suite that is used by farm administrators, either in a client's office or on a bureau basis. Key to the success in operating any software effectively is gaining a thorough understanding of the product's operation and Sum-It have developed a free distance learning course for the Total Accounts Module to enable delegates to build up their skills at their own pace. Using the Unit 3 Training Module materials the delegate is taken through a range of exercises to cover all aspects of the software. Additional one-to-one training is also available, either on-site or at our training suite in Sum-It's Head Office in Thame, Oxfordshire. To find out more about the distance learning course or book some training please contact Gordon Fowler on 01844 213003 or email him at [email protected] https://www.sum-itsoftware.co.uk
Get your copy of the essential Farm Office Handbook
Farm Office Handbook is a practical reference source for anyone involved in farm administration. It offers comprehensive guidance on farm office basics, from equipment to 'doing it online'; setting up accounting systems; computerising a manual accounting system; year-end procedures complete with a check list; management reporting and budgeting with useful templates. The chapters on VAT and payroll and statutory and assurance records have been thoroughly revised in this second edition to incorporate all the extensive changes made since the first edition was published in 2012. Additionally all the website addresses for legislative updates, contacts and online resources for rural businesses have been updated. It is an invaluable resource for someone tackling farm paperwork for the first time and for experienced staff seeking to improve their skills.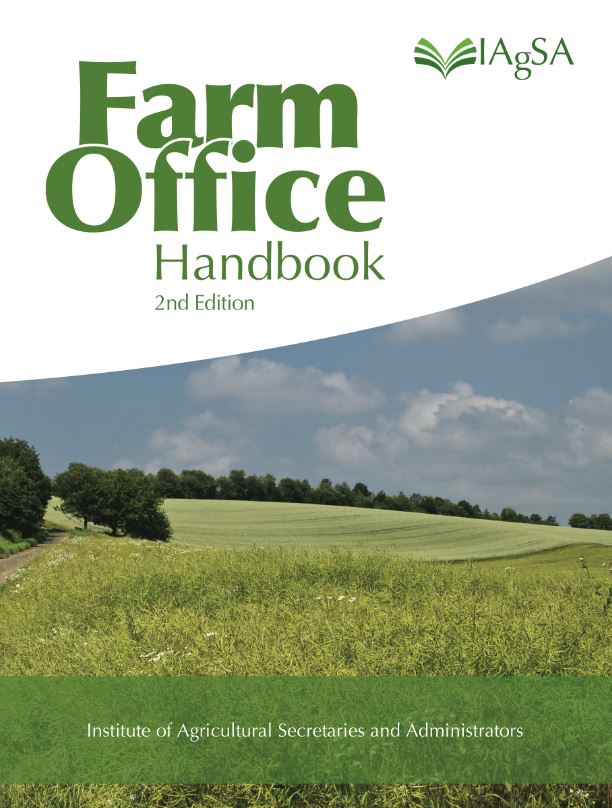 Member Support
The Package is aimed primarily at all members currently undertaking their training whilst working in the industry and includes the following: Mentoring Programme Studley College Trust Bursary
Mentoring
Enquiries from new entrants led us to believe that there is a need for an Associate Support Package to follow up the success of the IAgSA Training Programme. We now have a small team of Mentors who are available to provide support (free of charge) when required. By providing this service, IAgSA hopes to ensure the future of our industry and are seen to support their Members to the best of its ability. Our Mentor Group includes existing IAgSA Members who have a wealth of experience in our industry. They are located throughout England, Scotland and Wales and are assigned primarily on a geographic basis unless experience and knowledge dictates differently. For any enquiries email [email protected], or call her on 07411 678963.
Studley College Trust Bursary
We currently have access to funds kindly provided by the above to support new entrants into the Industry who are wishing to undertake the IAgSA Training Programme. It is anticipated that any bursaries awarded will be to students broadly meeting the following criteria: Be aged between 18 and 40 years (excepting cases of genuine career change) Have their career progress obstructed by lack of funds Be committed to a UK land-based career Have relevant practical experience and /or be from a rural background Following the land-based course, be committed to their career, and benefit the UK industry